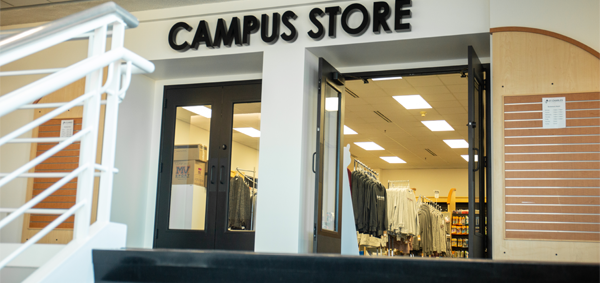 Please Note...
Students with Financial Aid: Campus Store Credits will begin on 5/18/20 for main term Summer semester classes and will end on 6/12/20.
Credit for Late Start Courses starting on 6/25/20 will be available from 6/25/20 - 7/03/20.

Please email all questions to storeservices@stchas.edu




Fall 2020 Textbook inquires are now available.
Courses are being updated every day.

Fall 2020 Textbooks will be available for purchase
starting August 3rd.



Summer 2020 Rental Textbooks are due back by August 7th.



All Summer textbooks must be purchased online regardless of if they are being shipped or picked up curbside.

Due to Covid-19 and the Campus plan to limit exposure, the Campus Store will be closed to the public through the Summer Semester. Due to the amount of orders and limited staffing, online orders may take longer than normal to complete.

Orders are only being processed between Monday & Friday during the hours of 9:00AM-3:00PM. We are closed on Saturday and Sunday.


Curbside Pickup:

Curbside pickup will be in the Green parking lot next to the student center.To pickup your books you must park in one of the assigned spots where there are traffic cones with green signs. Call 636-922-8448 when you arrive. Please have your order # and student ID or photo ID ready.

This is only offered between
Monday - Friday 9:00am-3:00pm.

Please do not show up to pick your order up until you have
received an email confirmation that it has been packed and is ready for pick-up.
We may be unable to quickly complete your order if you show up early.
Summer Financial Aid Textbook Vouchers



If you have financial aid funds and would like to use them to purchase your summer textbooks please choose the "Student Financial Aid" option at checkout. Only use this option if you know you have funds available! If your account balance is showing no funds available and you believe this to be a mistake, you need to contact financial services as there may be an issue with your aid.

In order to use Financial Aid, you must register on the website.
Guest accounts cannot use Financial Aid as a payment option.
All Spring 2020 Rental Textbooks were due back by May, 22nd.
Exceptions were to made to allow returns up until to May, 27th.
We are no longer able to take back late rental books.
Store Location
On the SCC Campus just across from Administration:
Located on the 2nd floor of the Student Center
4601 Mid Rivers Mall Dr.
Cottleville, MO 63376
To see our location visit the Campus Map.

Visit us on Facebook!
Campus Store Hours Summer 2020
Current (Limited) Operating Hours
We are currently closed to public.
Monday: 9:00 a.m. - 3:00 p.m.
Tuesday: 9:00 a.m. - 3:00 p.m.
Wednesday: 9:00 a.m. - 3:00 p.m.
Thursday: 9:00 a.m. - 3:00 p.m.
Friday: 9:00 a.m. - 3:00 p.m.
Saturday: Closed Sunday: Closed