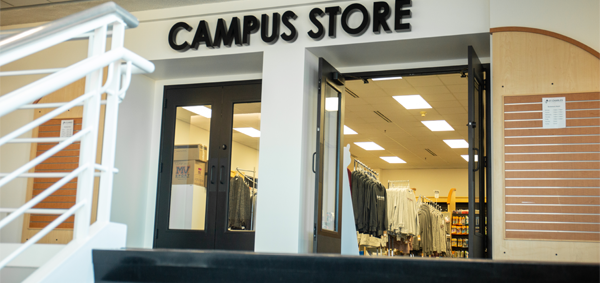 Please Note...
Students with SFA: Campus Store Credits will begin on 1/15/2020 for main term Spring semester classes.
Bookstore Credit Dates 2019-2020
If you have any questions regarding Campus Store Credits for SFA, please call 636-922-8448
Due to Covid-19 and the Campus plan to limit exposure the Campus Store is currently closed. Students requiring textbooks will need to order their textbooks online and have them shipped. The shipping costs will be waived during this time. We apologize for any inconvenience this may cause.

Last day to return all Spring 2020 Textbook Rentals is TBD due to Covid-19. All students will be notified of the new date and procedure to return rental textbooks once one has been decided upon.
Please email any questions to storeservices@stchas.edu as we currently do not have access to our phone lines.
Store Location
On the SCC Campus just across from Administration:
Located on the 2nd floor of the Student Center
4601 Mid Rivers Mall Dr.
Cottleville, MO 63376
To see our location visit the Campus Map.

Visit us on Facebook!
Campus Store Hours Spring 2020
Spring Normal Operating Hours
02/02/20- 5/31/20
Monday: 7:30 a.m. - 7:00 p.m.
Tuesday: 7:30 a.m. - 7:00 p.m.
Wednesday: 7:30 a.m. - 7:00 p.m.
Thursday: 7:30 a.m. - 7:00 p.m.
Friday: 7:30 a.m. - 4:30 p.m.
Saturday: Closed Sunday: Closed